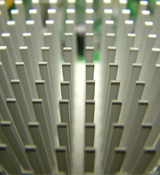 System integration
You've got all of the pieces, or so it seems, but you just don't seem to be getting timely and accurate financial information so vital to running a successful business...
It's possible that the problem lies not in the systems you've implemented but rather in the way that they work "against" one another. Redundant data entry, excessive reliance on electronic or manual spreadsheets and inefficient workflows are all symptoms of a less than optimally integrated systems environment.
At ACTEGRA, we analyze the systems that you have and how they interrelate with one another. We look at workflows, business rules and processes and reporting requirements to ensure that all of your systems are working together to achieve the results you expect. In some cases, our analysis points to the need for upgrades to existing hardware and software applications. In others, a reimplementation of existing resources is all that is required.
In either case, let ACTEGRA work with you to maximum your system's throughput while minimizing the effort required to achieve your overall business objectives.