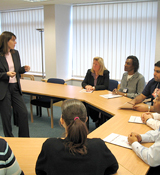 Training
You've invested a lot of money in the latest computer hardware and software to help manage your business but, you feel frustrated by the sense that you're not getting everything you want out of the system! Or, due to staff turnover, your once smooth running accounting application has faltered due to a lack of trained and experienced users.
It's time to call ACTEGRA and provide your staff with the up-to-date training necessary to realize the full benefits of your IT investment.
As a Certified QuickBooks ProAdvisor, Simply Accounting Certified Consultant, and Business Vision Business Partner, ACTEGRA is well equipped to provide your staff with accurate and up-to-date knowledge on the use of these mainstream accounting applications. Moreover, we take a personalized approach to training to ensure that each member of your staff receives the instruction that he or she needs to efficiently perform their respective duties. This "hands on" training methodology ensures the maximum return on your training investment and will help you to realize the greatest possible benefits from your accounting and related software.